Riddle of the Celestial Metal Balls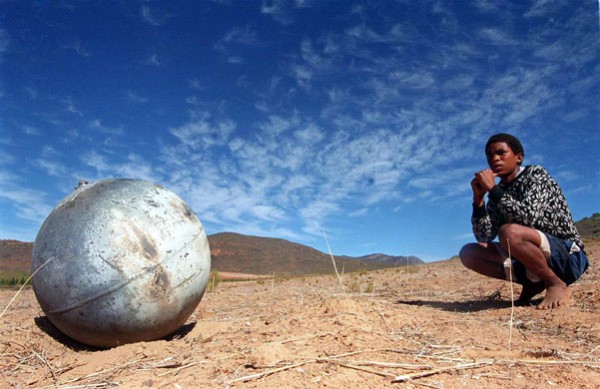 The press has repeatedly reported mysterious metal balls that come across people in different parts of the world. In 1966, in the state of Arkansas (USA) several eyewitnesses observed how one such ball with a diameter of 28 centimeters fell from a completely clear sky. When the "flyer" was lifted, there were no signs of passing through the dense layers of the atmosphere or any damage on the ideally smooth surface of the ball.
Mystery of celestial metal balls (3 photos)
A large metal ball dropped to the ground near Cape Town (South Africa) in April 2000. So it remains unknown whether it was a satellite part or something else.
Three metal balls lying close to each other were discovered in 1963 in the Australian desert. They all had a diameter of 35 centimeters, each weighing about six kilograms. The coating of the balls was as if polished, without connecting seams and damage. Australian scientists did not succeed in opening the strange objects, and the balls went to the USA for a more thorough study.
In 1969, an Argentinean explorer A. Schneider showed a 22 centimeter metal ball at a press conference in Buenos Aires. Found in the north of Argentina. In the presence of journalists, a scientist tried unsuccessfully for a quarter of an hour to apply at least one scratch to its surface. According to A. Schneider, this is one of four detected balls. The researcher talked about trying to figure out what's inside them, using the most modern methods, including exposure to ultra-low and ultra-high temperatures. But everything turned out to be useless.
It seems that the first such discovery, about which written records were preserved, was made in 1802 on a freshly plowed field near Leiden (Netherlands). People carried the ball to Leiden University, famous throughout Europe, but local scientists could not explain what this strange thing was. nor to determine what material it is made of. Subsequently, the ball was stolen by Napoleon's soldiers, and nothing is known about his fate.
The ball that was found in the Austro-Hungarian Empire during the First World War has sunk into obscurity. It was a perfectly round metal piece with a diameter of about 12 and a half centimeters. As usual – a smooth surface, the inability to either cut or even deform the find. The Austrians decided that this was some kind of secret development of the Russian foundry workers who created the new heavy-duty alloy, and handed the ball over to study in Germany, after which the traces of it were lost.
Millions years older than dinosaurs?
Some researchers see the affinity of these objects with extremely ancient metal spheres, which from time to time are excavated in South African mines, near the town of Otosdal in Western Transvaal. The age of the rock strata from which the spheres are extracted is approximately 2.8 billion years. Archaeologists who have studied the findings, do not doubt their artificial origin. In particular, M. Kremo and R Thomson write about this in detail in their book "Forbidden Archeology".
Riddle of the Celestial Metal Balls
Strange balls, which more than a hundred South African miners found, are about 2.5-10 cm in diameter. In the temporary Precambrian stratum in which they were found, there was no person yet, but they show signs of artificial processing, notches and grooves
The diameter of the Transvaal balls – from one to 10 centimeters. Some of them are egg-shaped. The diameter of many are parallel grooves. Some balls are all-metal, others are hollow, with a fibrous substance inside.
Rarities from Ottosdal can be seen in the Museum of the City of Klerksdorp, near Johannesburg. By the way, these and other similar amazing items found in deep mines (and not only South African ones) are in great demand among collectors. Not so long ago, a ball from Ottosdal was sold at auction for 75 thousand dollars.
Strange vibration
In 1983, Vounder magazine revealed the results of a study of ancient balls from the museum in Klerksdorp and a ball found relatively recently in the United States. The difference between the first and second was very significant, that. apparently, debunks a hypothesis about some of their relationship. -Modern-ball. in contrast to the old, it was undiscovered. Differ and composition of the metal. The surface is American-made of an alloy based on titanium and rare earth metals. This is impossible to create with current technologies.
The X-ray translucence of the "modern" ball showed that it is filled with round objects, possibly also balls. This makes us recall implants – miniature devices implanted by aliens into the bodies of people. Some of these devices also have similar properties.
A metal ball 22 inches in diameter found in a grave under an 18th century chapel. His appointment has not yet been clarified.
Mystery of celestial metal balls.